Quality and innovation are what separates them from the rest. JB Outdoor will listen to your ideas, offer practical advice and offer a competitive quote with a guarantee of quality workmanship at a realistic price.
MORE INFO
CALL US NOW!
CONTACT US
RENOVATIONS WOLLONGONG
You might think JB Outdoor is a newcomer to home improvement in Wollongong, but the reality is almost the complete opposite. With the combined experience of over 30 years, specialising in this type of work Barry and Jim have completed thousands of successful projects in the Illawarra and Macarthur areas.
HOME RENOVATIONS WOLLONGONG
Barry, formerly owned and operated B & D Home Improvements in Wollongong starting in 1999. He has a good reputation and many repeat customers prove he does the right things by his customers. Jim, from Picton, has worked in the home improvement industry for over 15 years and also had his own successful business as Jim Smith Constructions.
HOME IMPROVEMENT WOLLONGONG
Combined, to form JB Outdoor in 2015, we can now offer the same expertise and service with greater capabilities over a wider area.
AWNING WOLLONGONG
Modern awning design materials including wood, vinyl, fiberglass, aluminum and chlorinated polyvinyl chloride (CPVC) rather than brick or stone pillars, are more affordable and are increasing in popularity. Wooden pergolas are either made from a weather-resistant wood.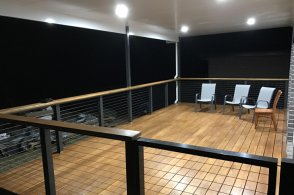 DECK BUILDER WOLLONGONG
Wood or timber "decking" can be used in a number of ways: as part of garden landscaping, to extend living areas of houses, and as an alternative to stone based features such as patios. Decks are made from treated lumber, composite lumber, composite material, and Aluminum.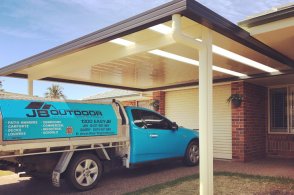 CARPORT BUILDER WOLLONGONG
Modern carports are typically made of metal (steel, tin, or aluminum) and are modular in style in the USA, while remaining flat-roofed permanent structures in much of the rest of the world. The carport is considered to be an economical method of protecting cars from the weather and sun damage.
PATIO BUILDER WOLLONGONG
Patio an outdoor space generally used for dining or recreation that adjoins a residence and is typically paved. In Australia, the term is expanded to include roofed structures similar to a pergola which provides protection from sun and rain.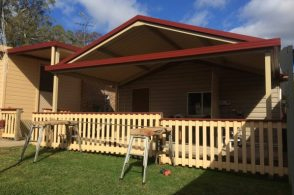 PERGOLA BUILDER WOLLONGONG
A pergola is a garden feature forming a shaded walkway, passageway, or sitting area of vertical posts or pillars that usually support cross-beams and a sturdy open lattice, often upon which woody vines are trained.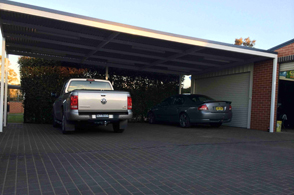 CARPORT BUILDER WOLLONGONG
A carport is a covered structure used to offer limited protection to vehicles, primarily cars, from rain and snow. The structure can either be free standing or attached to a wall. Unlike most structures, a carport does not have four walls and usually has one or two.
DECKING SERVICE WOLLONGONG
Historically, the softwoods used for decking were logged from old growth forests. These include Atlantic white cedar, redwood and Western red cedar (redcedar). Hardwoods used for decking come from tropical forests.